Dick Le Mair was born in February 1955 into a family from Den Haag where music plays an important role. His father works as an organist in the local church and lead the boy into classical music. So Dick grows up with Bach, Mozart and Beethoven and starts playing the piano at an early age. But first problems come up when a teacher is engaged to educate our little autodidact. For Dick just played by his sense of hearing and de didn´t like sheet music. His joy in playing music slowly gets lost in the maze of rules and instructions till he quitts playing.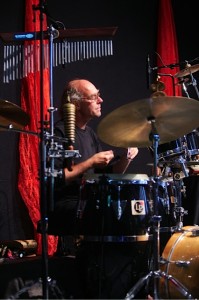 A couple of years later he discovers the wave of Rock and Blues spilling over from England to continental Europe. Now he listens to the music of Cream, The Rolling Stones and Pink Floyd. But this time he goes for percussion instruments and buys his first drum set. Again he learns playing it just by listening to the music. At the age of 14 Dick performs with his first band. From that time on he wanted to be a drummer and played more and more. As a young man Dick le Mair starts studying modern and classical percussion at the Conservatory of Rotterdam. The following years he works with the well known Duo Contemporian and plays many festivals and concerts all over the world. Dick le Mair also works as an academic and arranges music for television and radio. On his first solo record Over the Ages he creates his atmospheric and ruminant sound that finds it´s climax on Impressions of a Pilgrimage. The 15 compositions of this album are his masterpiece that affects directly, a musical pilgrimage narrating the long way to Santiago de Compostela. Dick Le Mair leads us warily to the destination with ancient chorals in a modern robe of smooth Jazz and Worldmusic.  A later project in 2014, Via Crucis, is a musical impression of the traditional Stations of the Cross. In fall 2016 was the world premier of 'Gloria' (mixed choir and piano/harp/bass/vibraphone and percussion) and in december 2017 the world premier of 'Benedicat' (vocalists and harp/sax/flute). In summer 2018 Boudewijn Zwart performed the new piece for carillon 'Marja – Ode to Love'. All scores are available at Donemus Publishing House of Contemporary Classical Music.
In 2019 Dick starts working as a conductor for percussion groups and his compositions for that groups are available at Show & Marching Music and BandMusicCentreUSA.
Listen to the music on Bandcamp, iTunes, Spotify, Deezer, YouTube . . .