Donemus
voor
gemengd koor
en voor
mannenkoor
.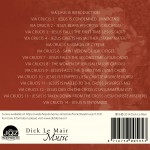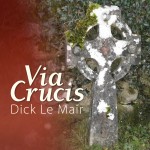 Deze door mij gecomponeerde muziek 'Via Crucis' is gebaseerd op de kruiswegstaties en heb ik opgedragen aan mijn vrouw Marja who is my love and my home. Meegewerkt is door Aron de Lijster, Ralph van Manen, Suzanne van der Velde, Miranda de Vlieger (vocalen), Frans de Berg (piano), Jaap Mulder (klarinet, sopraansaxofoon en bugel), Wouter van Iterson (contrabas en basgitaar) en Dick Le Mair (marimba en percussie). De CD is geproduceerd door Dick Le Mair bij Triple Moon Studio's. Het artwork is verzorgd door Pavé grafische vormgeving. De CD is bij concerten te koop en wordt via Ecovata gedistribueerd naar winkels en webshops in Nederland en door heel Europa. Ook op de Donemus-webshop is de CD te bestellen. En: Via Crucis is ook op iTunes. De CD is ook via deze website te koop voor € 17,50. Deze prijs is inclusief verzendkosten.
Voor de veertigdagentijd worden enkele uitvoeringen voorbereid: vrijdagavond 29 maart in de Kruiskerk Waddinxveen en zondagavond 31 maart 2019 in de Westerkerk Gouda ten bate van Kerk
in Actie. Via Crucis wordt uitgevoerd door een projectkoor van The Choir Company onder leiding van Maarten Wassink en een muzikaal ensemble: Frans de Berg (piano), Peter Koetsveld (klarinet), Ruben Bekx (contrabas/basgitaar) en Dick Le Mair (marimba/slagwerk).